SPMXSEM1040B
Key Benefits
2-in-1 ESC Motor Combo: Compact option for detailed scale builds where space is limited
Advanced Sensored Motor Control: Great for slow speed driving and next level drag brake performance
Industry Leading Waterproof Design: The Firma 2-in-1 Brushless Crawler Motor/ESC provides industry leading waterproof and dustproof operation for worry-free driving in mud, sand, snow and water
Multi-point Protection:
Over-current protection
Automatic LiPo low-voltage cutoff
Thermal protection
Failsafe protection
Features
Pro-level Drag Brake performance and adjustability
RPM/Throttle Matching enabled
FOC (Field-Oriented Control) equipped
Integrated 40-amp ESC (160amp burst)
2-3S LiPo/6-9 Cell NiMH input voltage range
Industry Leading Waterproof Design
Fully programmable with optional Spektrum ESC Programmer Box (not included)
Developed and designed by Spektrum™

 

engineers, in partnership with the industry's leading ESC and Brushless Motor manufacturer
Compact for easy installation in most applications
Ready to install — no soldering required
Adjustable high-power BEC (6V or 7.4V)
Firmware updatable through the Spektrum ESC Programming Box
High heat resistant IC3 connectors, backwards compatible with EC3 connectors
Limited 1-year warranty
The Ultimate Compact Crawler Solution
The Spektrum Firma Sensored 2-in-1 System is specifically engineered to be used with 10th scale Crawlers and Scalers. Featuring advanced Field-orientated Control (FOC) and professional drag brake performance and torque control, all while being fully waterproof.
The compact 2-in-1 design grants builders the ability to reduce clutter and components, giving you the most room for scale accessories and customization. The integrated design makes the size similar to a 550 can size motor, making it a easy drop-in option for most 1/10 scale crawler, scaler and trailer models.
Available in a low speed 1400Kv option for extreme slow speed and high angle of attack performance. And a high speed 2300Kv for excellent control for trailers and rock bouncers.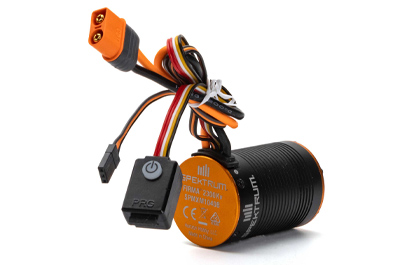 Field-oriented Control
The Spektrum Firma Sensored 2-in-1 System features a high-precision magnetic encoder and rotor position sensor that provides excellent 1 to 1 control feel when driving at any speed and at any angle. Perfectly suited for trail driving, rock crawling competitions and rock racing setups. This advancement in sensored motor control allows the ESC to match your throttle input to the motors RPM with unmatched precision.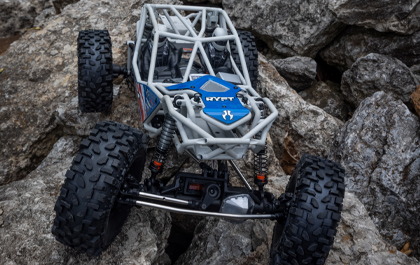 Intelligent Speed And Torque Control
The Spektrum Firma Sensored 2-in-1 System provides a closed loop control, ensuring that the esc maintains torque and RPM levels even as driving conditions change. Giving unprecedented control when driving uphill or downhill and even when in wet or loose traction conditions. No matter the terrain, the Spektrum Firma Crawler system keeps you in complete control.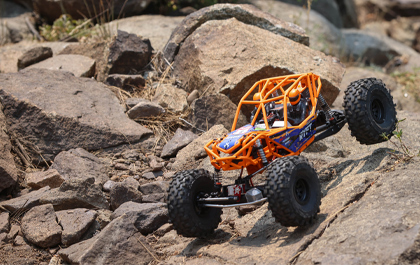 Maximum Power Efficiency Provides Longer Battery Life
When driving with the Spektrum Firma Sensored 2-in-1 System, drivers are better equipped for the long trails ahead. The Spektrum Firma Sensored 2-in-1 System only uses the power it needs to match your desired throttle output, providing substantially more efficient current levels and extremely long battery life when compared with similar sensorless systems.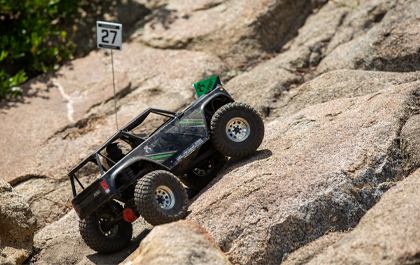 Pro-Level Drag Brake Adjustment
The Spektrum Firma Sensored 2-in-1 System features a huge range of drag brake adjustability, allowing for drivers to expertly tune their crawlers and scalers depending on their driven train and vehicle weight. Allowing up to 200% drag power, no matter the setup, the Spektrum Firma Sensored 2-in-1 System can keep your vehicle parked at nearly any incline.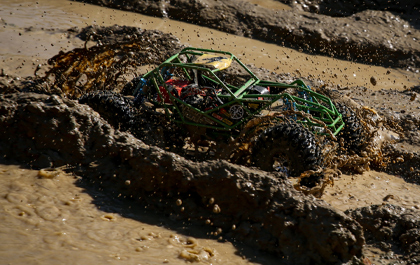 Waterproof
The all-weather, waterproof design of Spektrum™ Firma™ ESCs allows them to perform in nearly any terrain under almost any conditions. Firma ESCs keep you going through dust, gravel, snow, and water.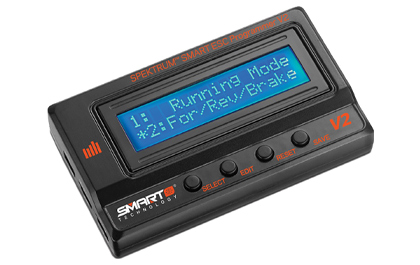 High-adjustability Programming Options
Using the Spektrum ESC Programming Box (version V2 required) , you can easily change settings on the trail to suit driving conditions. An easy-to-use Smart Link USB Updating and PC Programmer app is also available.
Application

1/10 Rock Crawler

Auto Cutoff

Yes

BEC Voltage

6V/7.4V Adjustable, Continuous Current 4A (Switch Mode)

Connector Type

IC3

Forward

Yes

Input Voltage

2-3S LiPo, 6-9 Cells NiMH

Maximum Burst Current

160A

Maximum Continuous Current

40A

Motor Size

550-Size

Motor Type

Brushless

Number of Poles

4

Outer Diameter

1.46" (37 mm)

Overload Protection

Yes

Product Application

Crawling, Surface

Product Length

2.28" (58 mm)

Product Weight

201g (including wire plug)

Programmable

Yes

Reverse

Yes

RPM/Volt (Kv)

2300Kv

Sensored

Yes

Shaft Diameter

0.125" (3 mm)

Shaft Length

0.63" (16 mm)

Water-Resistant

Yes